I love my job! I love it so much that I literally find it hard to break away long enough to enjoy some "me" time.  I love it when my boss encourages me to actually take a vacation!  I always say, "oh, I will get to it…eventually."  Well this year, when I was planning my vacation, I had decided that I wanted to go somewhere that I had never been before.  I have a friend and blogmate, which you all know now, Beautiful Booze who lives in Seattle.  I wanted to go on a spur of the moment trip, that I called her up and said, "Mig, is your calendar open for May 17th?".   She was like, "yeah, of course." Before I hung up,  I had the ticket booked and was on my way to the DREAM city of Seattle!  Now mind you, the longest I have ever been on a plane was an hour lol.  I was in for a long haul.  S0 between changing planes three times and sitting next to many friendly faces, visiting 4 different airports AND 10 hours later, I arrived in  S-E-A-T-T-L-E.  Yes, I get to enjoy this B-E-A-U-T-I-F-U-L city for a week!
Are you ready to explore the city of Seattle with me?
 Hellooooo Seattle!  It sure is a pleasure to meet you 🙂
 Beautiful view of Seattle from the Gas Works Park
 More Images from Gas Works Park
 Stunnng photo of artwork from Gas Works Park
  Street view of China Town
 The BEST authentic chicken fried rice from Phnom Penh Noodle House in China Town.  I would recommend this place if you are ever in Seattle!
 People playing street chess!  It was really cool seeing it up close.
 Better view 🙂 China Town was really neat!  I thought I wasn't in Seattle for a second…
 Of course, you can't go to Seattle without visiting the one thing it's known for… the SPACE NEEDLE 🙂  Yes, I went up to the top of it.  The view was A-M-A-Z-I-N-G…
  See for yourself…
 This was pretty cool, when I looked down from the Space Needle, I spotted spiders on one of the buildings… YIKES!
 This was a cool shot!  This has NO FILTER!  What was cool about this picture is these flowers are made of different things.  It's an art and they SING to you when you walk up to them.
   Life really has come full circle 🙂
 Welcome to Pike Place Market!  Boy, I was in a SEA of FISH 🙂
 This is the best part of the trip for me!  The Public Market Center.
 Yes, I got to play around with the fishy…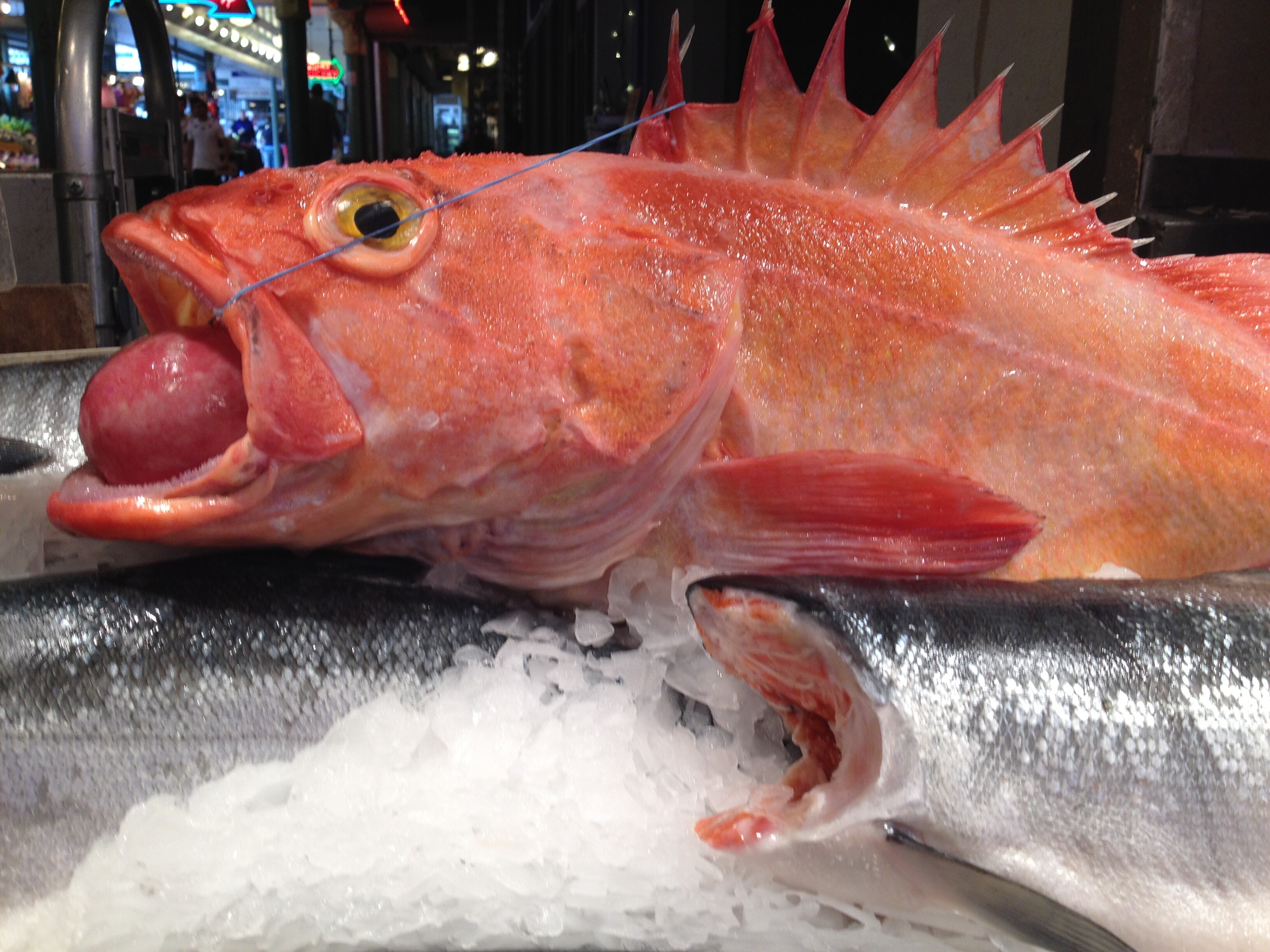 Things you will see at the fish market. I have no idea what is in his mouth?!?!
 More fish for ya!
 The FAMOUS GUM WALL!  Yes, this is all gum.  If you ever make it to Seattle, I challenge you to go find this wall and send me selfie.
  See!  I did it.  It was BIZARRE. It just smelled like all kinds of chewing/bubble gum lol.
 I found the ORIGINAL Starbucks!  It was pretty cool.
 Nice seeing the original logo. That SMELL tho.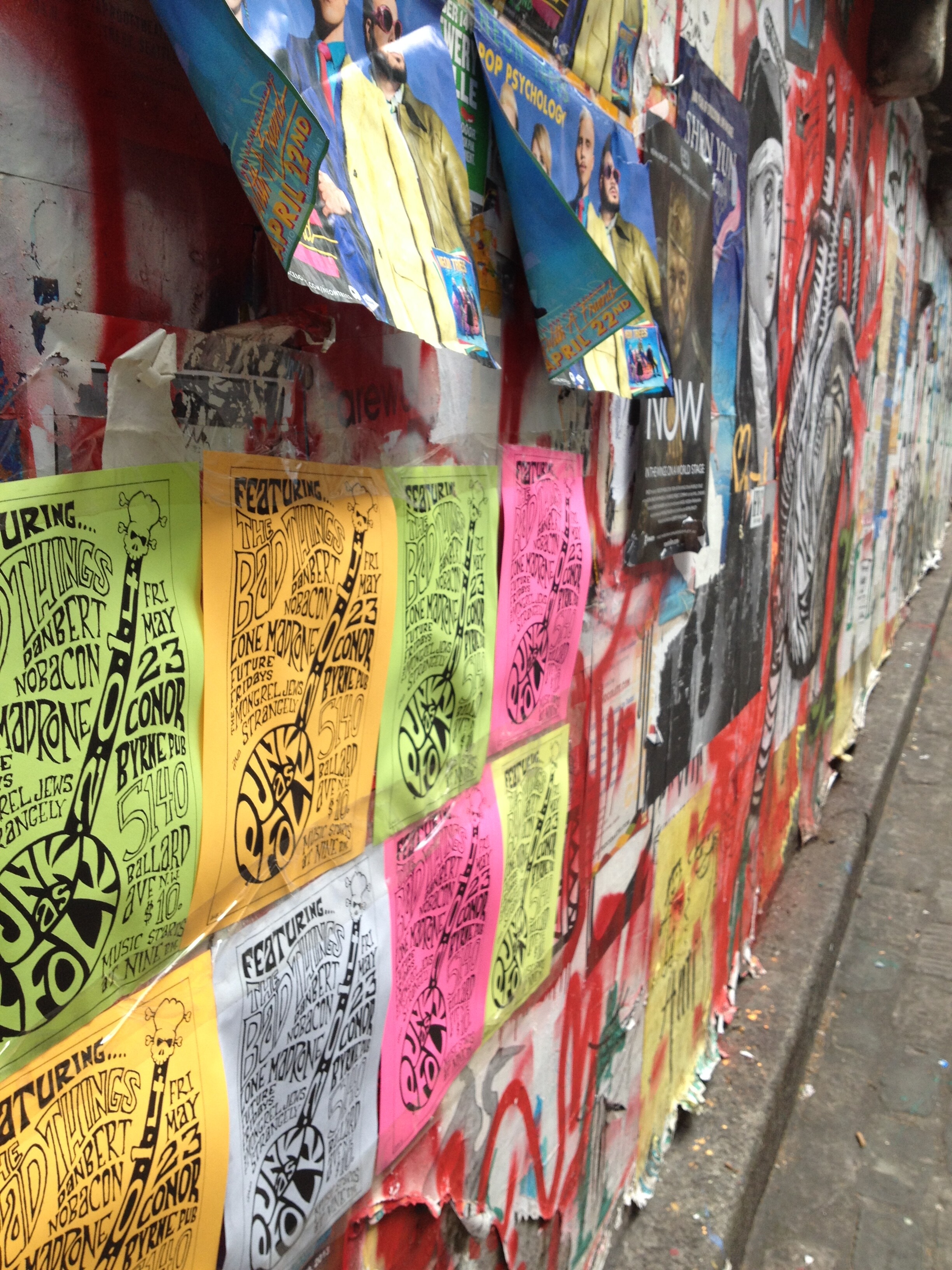 I just thought this was a cool shot of signs posted along a wall in Seattle.
 I had to put this picture on here because I thought I would never see gas get to this amount…EVER.
 This view was just stunning!  This was from Shilshole Bay Marina.
 Ahhh…I just loved the ferris wheel.
 The Olympic Sculpture Park was pretty amazing.  Some of the images posted below were really cool to see in person.  The pictures really don't do it justice.  A MUST see also!  Better start making you a to-do list for Seattle.  Hehe…
 This is the newest addition to the sculpture family.
 You have probably seen this image on the National Geographic's website.
 Very Artistic.
 You never know what you will find on the streets of Seattle.  This was adorable though.
 All aboard!  This was SO much fun.  Seattle Ferry Tour was really neat.  It took you to an Island and you could get off and explore/get back on, etc.
 So this happened!  I got chocolate wasted at Theo Chocolate Factory!  It is sooooooooooo good and organic.  I had to get pulled out of there haha!
 So I really had fun hiking up to find this fellar at Fremont.  He was living under the bridge just as he should!
 View from Fremont Troll. So cool.
   So my last night in Seattle, I went out in style.  I went to Perche' No pasta & Vino. This place was heaven.  The pasta homemade. You could actually sit at the top of the restaurant and watch them cook your food.  The atmosphere was perfect.  The staff/owner was very accommodating to your needs. The owner actually came around and asked me if I had any special occasions and I told her I had a birthday coming up.  She made me a sign and brought me the best Gelato for desert.  I loved this place and didn't want to leave.  Again, if you make it to Seattle, add this to your stop!
Man, Seattle was sure good to me.  She spoiled me rotten. I didn't want to leave.  I had such a wonderful time.  I believe a week was a tease.    I do believe I will have to book more time in the future to go back and explore more about this beautiful city.  I hope I gave you a glimpse of just how much FUN you would have.
Tell me, have you traveled to Seattle before?  If so, what have you explored?  OR, where would you like to go on your next vacation? HAVE YOU GOT IT BOOKED YET?!?!?!
  I saved the best picture for last.  As we were leaving Seattle, I got a glimpse of Mount Rainier.  So BEAUTIFUL. 
 The DREAM CITY