It's that time of year where we raise a glass to send off an awesome Summer filled with lots of sunshine, sand and seashells to welcoming Fall with flip-flops, pumpkin spice lattes and 70 degree temps!  It doesn't get any better than that!  OR does it?
I'm happy to share the good news! On Saturday, September 24th, a new establishment will be opening their doors to you and your family, bringing a wide variety of fun and excitement!  If you're looking for something new and invigorating that involves VINO, Wine & Design has all the ingredients to make you experience all the feels! You'll get the opportunity to meet new people, explore your artistic side and share special moments with the ones you love!
In addition to the kick-off event on Saturday, a portion of the proceeds collected that day ONLY, will go towards the non-profit organization, Blue Turtle Society (BTS). Not only are you taking care of yourself, but you're helping take care of our environment and all the adorable species along the way.
So have you ever seen a grand opening party last more than 24 hours?  Nope, me neither. I'm happy to share that this party will continue through Wednesday, September 28th!  Check out the detailed schedule of events to follow Saturday's extravaganza!  Come on out and party with us!
If you think the fun stops after the 28th, I've got awesome news for you!  Check out the different opportunities that you get to delve into anytime you want!  It's certainly a win/win!!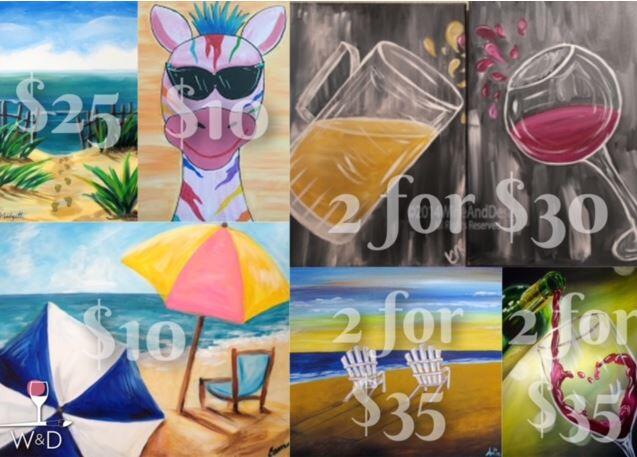 Wine & Design is located at 14219 Walsingham Road | Largo, FL 33774
PLEASE NOTE: A free future class ($35.00 value) will be offered to the first 20 people who sign up right now!  Be sure to claim your spot ASAP!!
Doors will open on Saturday, September 24th at 6:00pm with lots of laughter, a blank canvas and new paint brushes ready for your imagination!
For more information, be sure to follow Wine & Design on social media!
On Facebook.
On Twitter.
Would you like to WIN a FREE class to Wine & Design?
Leave me a comment below telling me WHY you'd love to have this awesome opportunity to exercise your art skills, and I'll choose TWO random comments on September 25th (using Random.org) and announce the winners here on the blog and on social media! Stay tuned.
Want to increase your chances of winning?
Add additional comments below each time you do the following:
Look forward to seeing you on Saturday with VINO in hand…