No Ordinary Liz has been involved in many cool things in my lifetime, a trip to Belize, meeting cool people, tasting amazing food and experiencing things for the very first time.  So this past Tuesday, I got to add something else to my FUN list. A MUSICAL!!  I've had this on my bucket list to attend one in New York for quite sometime now, but whaddya know, one was right around the corner.  Guess I can check this off! (CHECK) I've driven past the STRAZ CENTER  many times and wondered what exciting things go on inside, it's always so bright and inviting.
Seeee, are you enticed?
 David A. Straz Jr. Center for the Performing Arts
 Due to the rain and eager ppl trying to catch the musical, I was a bit late getting to the show.  This is what happens when you arrive late!  You get stuck watching it on the outside until there is a break for you to go in.  I had missed about 15 minutes of show 🙁  NO BUENO.  
So is it sad that I don't remember much about Annie from my childhood?  I have heard of her, but don't recall much about her.  I should, as her and I share some similarities.  We both did have a "hard knock life" growing up.  I was always looking for the "sun to come up tomorrow" in my early years.  While we both are "orphans" searching for our birth parents, she grew up in an orphanage while I grew up in a foster home along with 7 to 8 other foster children.  We were all always looking out for one another and I did have a "Miss Hannigan" who wasn't quite humorous, but very dry and loved to chain smoke her Marlboros'.   After watching the musical, I absolutely fell in love with ANNIE!! 
I had such an amazing time with my sister and some friends watching the Tony Award Winning production of Annie.  I'm not going to give any spoilers, but I just loved everything from the cast, the set, the music, to Sandy.  I absolutely adored all the orphans and couldn't get over how talented they all were.  I think it's so inspiring to see them chasing their dreams.  And LET'S not forget ANNIE!  I mean, she is from our own back yard, Davie, FL.  Whooo Hooo!!  Way to represent.  Such talent, grace and loved watching her embrace that stage.  She is definitely going places.   Miss Hannigan was definitely  a hoot!  I mean, sister got moves to go along with all that humor.   The MUSIC, was phenomenal. I was catching myself singing along to a couple of songs.  I hope the people over the my right liked my tune HEHE!  I couldn't help it.  It's a MUSICAL after all. Isn't that what you're suppose to do?  Sing a long…No?  The whole production was just put together nicely.  I'm still trying to figure out how they did some of the sets.  It was really cool seeing the different scenes.  They had so many.  A couple of my favs were… well… I'm not gonna say.  You're going to have just go see for yourself!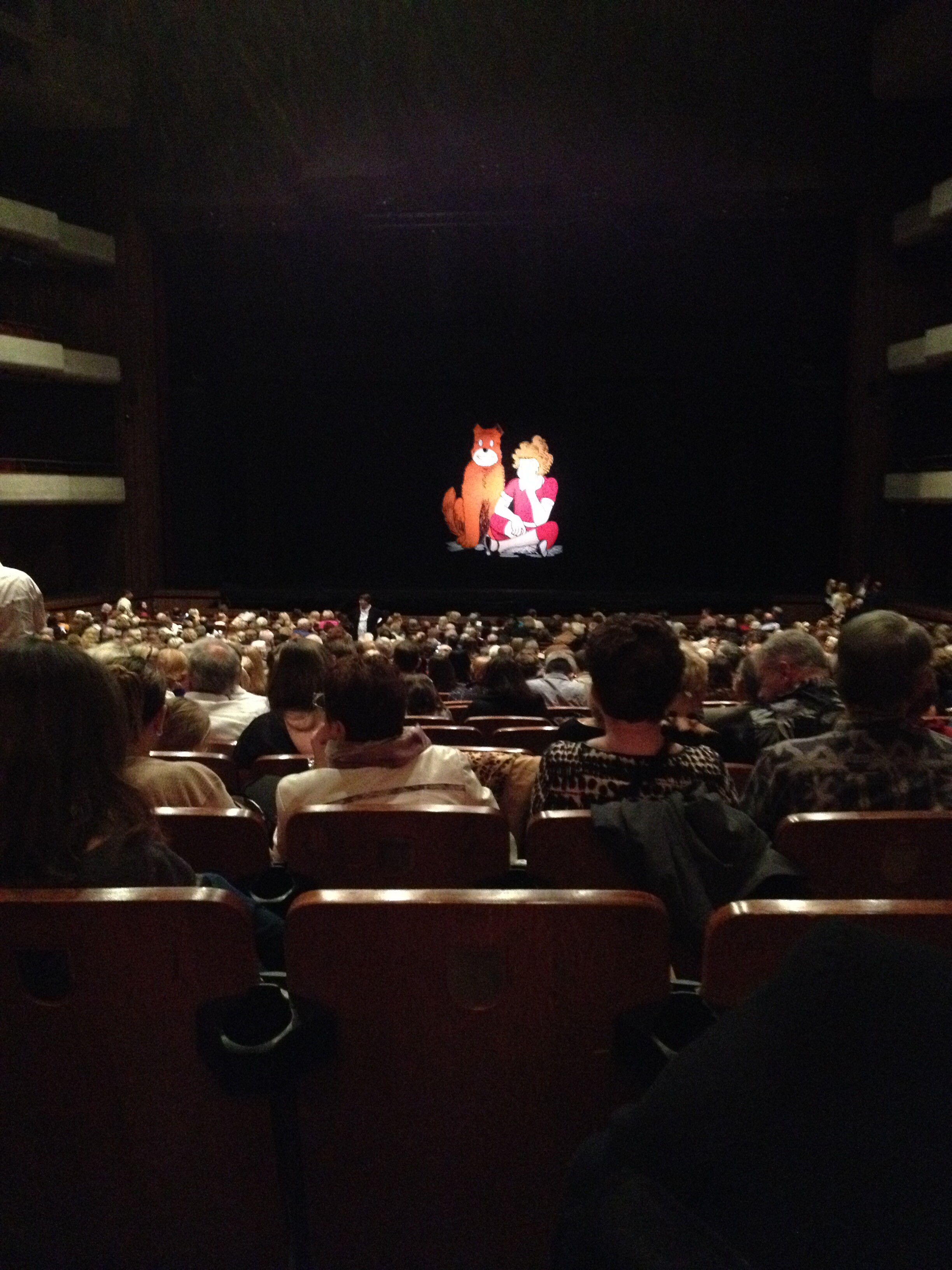 For opening night of ANNIE, the STRAZ had to've been sold out cuz look at all the people!  This was intermission, I thought the show was OVER lol.  Please note, make sure you carve out at least 3hrs of your evening for this event.  It runs from 7:30 – 10:30pm.  P.S. IT IS WORTH IT!!!
NO HARD KNOCK LIFE NO MORE: I think this is just amazing, for Feb. 17th – Feb. 22nd, the STRAZ will be accepting donations of any sorts for children's clothing as well as primary school uniforms.  The drive will benefit Metropolitan Ministries  who serves families in Hillsborough, Pinellas, Pasco and Polk counties.
SO WHAT ARE YOU WAITING FOR?  ANNIE The Musical is only in town through February 22nd.  Make sure you get your tickets TODAY!!
Show Times
Prices starting at $46.00
Select a performance from the list below
Friday, February 20, 2015 8 p.m.
Saturday, February 21, 2015 2 p.m.
Saturday, February 21, 2015 8 p.m.
Sunday, February 22, 2015 1 p.m.
Sunday, February 22, 2015 6 p.m.
This was my first musical and certainly not my last!  I LOVED the STRAZ and will be back.  I'm now addicted to those flashy lights!
The review is written by me on behalf of the STRAZ. I received complimentary tickets to the show from the STRAin exchange for my review. The opinions in this post are all mine.